"In the midst of an industry that is rapidly expanding, we take a unique approach to green building. Because we build only a select number of homes annually, we can prioritize craft and client's desires to build homes that are as artfully crafted as they are enduring and livable, as well as innovative and inspired by nature". – Brandon Bryant, President
A Mindful Approach to Home Building
---
Since starting his building career, Red Tree founder Brandon Bryant has worked in all areas of construction from smart land development, grading, foundation, bridge building, sales, and marketing, to new home construction.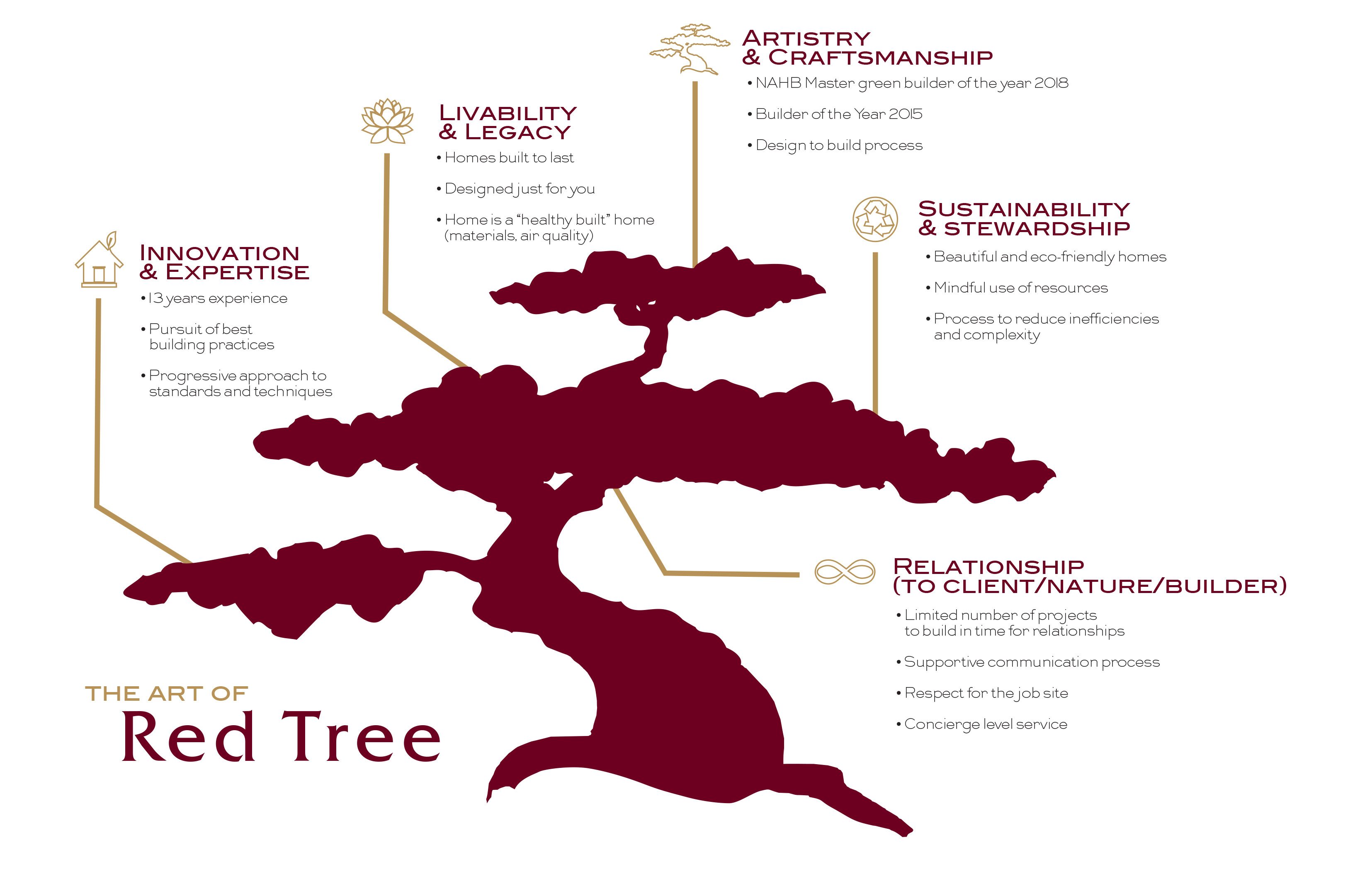 His background supports Red Tree's integrated and mindful approach that takes into consideration every aspect of what it means to be green when building a home.
Red Tree's focus on sustainability assures that each system is considered in relation to every other system in a house to build a more efficient and more comfortable home. Each home is custom built to the buyer's specifications with the highest quality of craftsmanship while optimizing the homes site placement to take advantage of solar passive design and smart land use.
Simply put, Red Tree's homes are better to live in, perform better, and last longer.
Our Homes Are Built To Perform

Our Homes Are Built To Save

Our Homes Are Built To Impress
---
---
There's another aspect central to green building that isn't typically mentioned: The house ought to look good and live well. Why? Because people take care of things they like. And when you take care of things, they tend to last. It's possible to build a quality house that's not green, but you can't build green without adding quality.  Homes use energy, water, and materials in order to build.
To maximize the use of these raw materials and natural elements, our homes should evoke a beauty that makes that impact beneficial and creating a source of pride for the people who own them.  Thoughtful design that inspires our clients, and gives them a connection to the outdoors and natural world  are a top goal of the type of projects we want to be associated with
---
---
---
We are passionate about helping our clients achieve a higher level of health.   Our health and the health and safety of our families are typically the most important  things to most people. As building envelopes get tighter, air flow through the building is choked off and VOCs and allergens are trapped inside homes.
All our homes come with a Energy Recovery Ventilation (ERV)
An ERV system delivers a fresh-air feel, with little or no energy loss. It transfers heat and moisture from inside to the outside of the home, balancing humidity levels for improved comfort. The system also sends pollutants outdoors, making indoor air easier to breathe. During the warmer seasons, the system pre-cools and dehumidifies while humidifying and pre-heating in the cooler seasons.
---
HERS Rating measures a Home's Energy Efficiency. Imagine how MPG Measures a Car's Fuel Efficiency this Does the Same for your Home. A Lower HERS Index Score Means a More Energy Efficient Home. So, when other builders tell you their homes are energy efficient or they are a green builder – be sure to ask to see the HERS score.
---
Green buildings are as varied as the people who live in them. There is no single template for a green house. So how do the public know if a house is green built? Voluntary, non-prescriptive green programs allow a house to be rated and certified green built. This allows owners the assurance that their home has meet standards set for green building.
All our homes are tested by a third-party energy rating firm. Having a third party certified green home ensures you are getting a true quality home, and one above the standards of the building codes of the time.
---
---
---
Red Tree Builders Green Home: 55
Copyright 2019 Red Tree Builders. All Rights Reserved. | Site by Kudzu Brands