Green Building Smart Market Report
July 27, 2020
---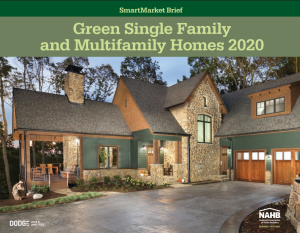 NAHB/Dodge Data and Analytics teamed to create this Green Building Smart Market Report. This report is focused on green family homes and multi family homes for 2020. The Smart Market Report focuses on the different levels of green building activity, what homeowners care about and what is important to them.
NAHB reached out to Red Tree Builders about being featured on the cover. We selected a home we built in the Olivetter, NC community. This home is green certified with geothermal. This was a really fun build that had a lot of cool green building techniques throughout.
"It was an honor being asked to be featured on the cover. We were excited to showcase one of our beautiful homes and a fantastic client. It is always a privilege to have the ability to build homes, more than that it is amazing to build green and sustainable homes in a place we love. This report goes into the mindset of the consumer - what they want and what they need in a home. There is an immense amount of good information for us, as builders, to learn and implement in our builds."
Be sure to read all the way to the end for some very beneficial information!
Copyright 2019 Red Tree Builders. All Rights Reserved. | Site by Kudzu Brands